If you are interested in adopting a LWR Weimaraner, please fill out an adoption application here.
---
Gunner
*AVAILABLE*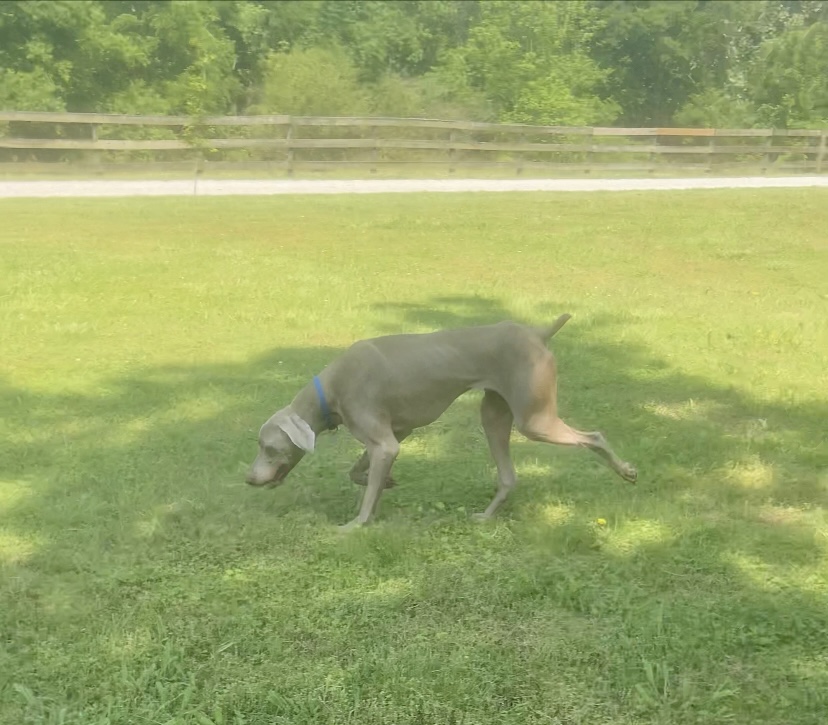 Howdy, y'all!  Call me Gunner.  I'm a 2 year-old, good-natured, neutered male who's currently being fostered a bit south of Nashville, TN.  I was given away free on FB while quite underweight and living outside alone in a pen.  Things are definitely looking up for me now, though!  I'm eating 3 square meals a day (plus treats) and am working on gaining weight. I'm currently 58.7 lbs.  I'm microchipped, up to date on vaccinations, and on heartworm/flea/tick preventatives.  I'm a happy-go-lucky guy who loves being in the house, playing (sometimes kinda rough) with my Weim brother and spending some time outside with my foster family.  I mostly ignore or nicely interact with the 3 adult inside cats as well as all 4 outside adult barn cats… that makes me a bit of a unicorn in the Weim world.  I've been nose to nose with a horse through the safety of a fence and so far am quietly curious, but Foster Mom says I seem a bit too interested in the penned chickens to be trusted with them free range (just to be safe on the safe side).

I'm a friendly guy and want to greet everyone on 2 or 4 legs during our trips to the vet.  So far I've only met adults, so no official word on how I'd do around tots and children.  I'm great in the car and am learning to "Load Up" on my own (sometimes tho' I need a lil' boost).  I lead better with a harness vs. a flat collar as I'm strong if I decide to pull, but I'm improving.  I'm a typical "mouthy" Weim, but it's mostly soft mouthing and the times I get a little bit carried away I've been learning the command "Gentle".  I've shown no signs of aggression or resource guarding.  In fact my mouth is easily opened to give me pills or retrieve anything that I might not be allowed to have (spoon with peanut butter left on it – I'm looking at you).
Housetraining is something else I'm working on… right now I need to go out to potty frequently and have had a few liquid accidents, but nothing solid.  The vet says that my muscle tone and ability to "hold it" should improve with my weight gain.  There's also been way less accidents since Foster Mom has learned that I pace and/or come to her as my cue to go out.  I am crate trained and will go in on "Kennel" command especially if there's a peanut butter filled Kong involved.  I haven't chewed or destroyed the quilted blanket in my crate and have never soiled my bedding.  I started out sleeping in my crate, waking up a few times and barking to alert that I needed to potty.  After several nights of waking the household, and since Foster Dad was traveling, Foster Mom put a doggie diaper on me as a precaution and decided to invite me on the bed with her and my Weim bro.  If I do say so myself, I've proven to be a rock-star bed-dog with no nighttime/morning accidents.  

Understandably, I'm very interested in food and am tall enough to peruse what's on the counter.  While I do make the rounds in the kitchen and hop up on my hind legs to see what food someone is holding, Foster Mom is surprised I'm pretty polite about it and am not what she calls a shark.  Don't get me wrong though, I'm happy to take what's offered and if someone drops something I'm right there to see if it's edible.  I have a slow feeder bowl that will come with me that keeps me from bolting my kibble.  I eagerly sit like a good boy while I wait for my food bowl to be put down.  Otherwise my "Sit" is a bit inconsistent, but it's getting better with practice (and more treats!).

Foster Mom is amazed at how resilient I am and finds me rather endearing.  I'll happily lay my head in your lap and just want to be petted, or sometimes soulfully look into your eyes and really try to "talk" to you.  I'll slip into the closet if the door is left open and bring a sock, or shirt to you out of the dirty laundry basket.  I'm not perfect and confess to chewing one sock early on, and have helped to pull some stuffing out of a dog blanket hole that Weim bro started, but I've been learning to "Leave it" and am enjoying chewing on assorted dog toys instead.  All in all, I'm happy to curl up on a dog bed or chair in the same room as you if you're working on something or snuggle up with you on the couch or bed. 

If you would like me to come enrich your life, please fill out an adoption application at www.louisvilleweimrescue.com. After receiving your application a LWR volunteer will contact you. Don't fret if it takes a few days, I'm totally worth the wait.
---
Maggie
*AVAILABLE*
Hello, my name is Maggie! I am 3 years old, spayed, up to date on vaccinations, microchipped, and heartworm negative and on prevention. I am a typical Velcro Weimaraner. I like to be with my humans and will follow you around the house and give you no privacy. If you close a door and leave me out, I will whine and/or scratch. I am a very big girl and unusually tall for a Weimaraner. I have not been crated at my foster parents, but if you decide to use one, you will need a very tall one! I do struggle with my weight but have managed to drop from 126 to 109 at my last vet visit so I can't have too many treats or human food. Oddly, I am not really one to beg for food or a counter surfer but that could be because my humans have kept food always out of reach because of my foster Weim brother who likes to surf. I hear I am going to be tested to see if my thyroid is out of whack that may contribute to my weight. On the most part I am a well-behaved girl and have only been a little destructive when my humans go too far past my mealtime. If that happens, I may find something to chew up, but usually just paper or cardboard. I do like to have something to chew on to keep me busy and I enjoy chasing a ball, but I'm not too good about giving it back to you. I enjoy long walks and do well on a leash most of the time but since I'm a big girl and I do sometimes like to give chase if a squirrel or bunny crosses my path, I did pull my foster mom down to the ground once. I'm getting better, but I need someone who can handle me if I start to pull if I see a squirrel that I can't resist! I did jog when I lived with my original family, and I like hiking too. I am a happy dog and get especially excited when my humans come home. I hear that when I am happy, I smile, and my face just seems to light up. I have been on medication for incontinence but have not had any problems and sleep with my humans on their bed, king sized, of course! I am otherwise house trained with no accidents while in my foster home and will go to the door when I need to potty. I have been in a home with other animals and while I am mostly good with other dogs, I don't like to share and don't like any other animals around my food, treats or my spot on the bed. I have been aggressive and caused injuries to my dog friends requiring trips to the vet for them. Because of this, I will need a home with no other animals and no small children. I get along with children, but as stated, I do not like to share. If you need a big girl that will love you and be your one and only, please consider me. I really am a big sweetheart. Please complete an adoption application on www.louisvilleweimrescue.com if interested.
---
Storm
*AVAILABLE*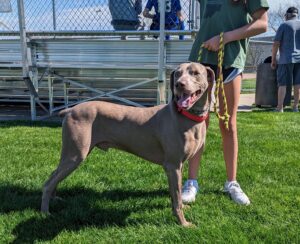 Hello, my name is Storm. I am a 6-year-old, 80 lb. gray male Weimaraner. I am up to date on all my vaccines, heartworm negative and recently neutered. I am potty trained and know basic commands (sit/down). My foster Dad is working with me on more training. It's not always easy, but I am very food motivated so he says that I am a quick learner.
My foster family has 4 two-legged kids, ages 6-16, so there is always something going on. I am great with all the kids, big and small. With four kids, the house is always active which is good because I have tons of energy. I love going outside with the kids and playing in the yard with them. I will chase the ball but I'm still working on bringing it back. Sometimes I can get "mouthy" but I never bite, we are working on that too! I am friendly to other dogs but like them when they are more my size so we can play. This weekend my foster family took me to a "softball opening day" event, it was great…so many new things to see and smell. I always sat when being petted and met lots of other dogs. My foster Dad said I did great!
I love going for car rides and walks. My foster Dad has been working with me because he says I "pull" hard on the leash, but I am getting much better. I LOVE tug of war… I am VERY strong and the only one that can beat me is my foster Dad. He jokes that my name should be "TANK" because of how strong I am. You may also be interested in knowing that I've never lived with cats. I've seen them but ignored them. There are no cats here with me.
I am out of my crate during the day since my foster Dad works from home, which is great because then I get to follow him around the house and lay right behind his chair. I love to chew on my bones and toys. I have no issue going into my crate when my foster family leaves and I sleep there at night. I go outside to the fenced yard but really prefer to be inside with my foster family. Before living in my temporary home, I spent most of my day outside. I definitely like being with my people more!
When I was a mere pup, I had to go to the vet. I had something called heartworms. They are all gone now, but now I have a heart murmur, whatever that is! They keep a check on my blood too. One of the humans can tell you more about that.
I would love to live with a family with dogs my size, and of course, kids that will play with me. I am used to a fenced area which is perfect for me. I want to go places with you, and with a little more training, I will be good on our walks and will make you proud and happy to be my companion.
I am being fostered in the Indianapolis area. If you are looking for a fun-loving, loyal, and happy pal, fill out an application at louisvilleweimrescue.com and one of the LWR volunteers will be in contact within 7-14 days after receiving.