If you are interested in adopting a LWR Weimaraner, please fill out an adoption application here.
---
Leo
*AVAILABLE*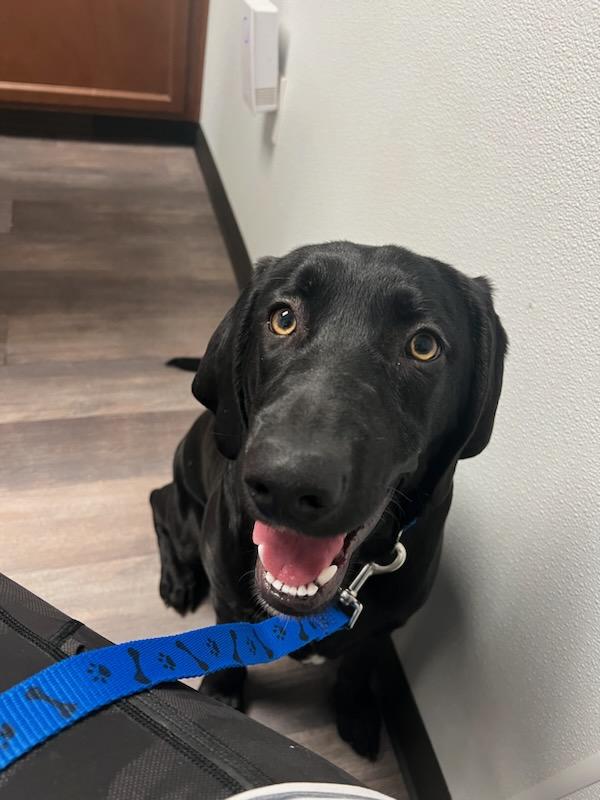 Hi!! My name is Leo. My Dad is a Weimaraner, and my Mom is a Lab. I am about six months old. I am potty, dog door and crate trained. I was so scared when I got to my foster Mom's house I wouldn't walk. She was so good to me and carried me or sat down and waited until I came to her. She would pet me until I felt better. It took me about three days to feel better and start to come out of my shell. I am shy and scared at first, but things are going great at my foster home, so I am loving life except when she uses the vacuum, blender or hair dryer. Yikes! Why are they so loud?! I have a 4-legged, foster brother and we play sometimes but sometimes he is a grump. I really want to play with my other 4-legged, foster brother who is a cat, but he is still figuring me out and won't play. I am super nice to him so when he decides to play I'll be available. I am learning how to go for walks and it's the best thing ever! My foster brother and I get soooo excited and he is teaching me how to focus on the sidewalk and ignore other dogs. I am trying but it's so hard when all these other dogs want to bark at me and get my attention to play. My foster Mom says that on every walk I get better. She keeps mentioning a dog park, whatever that is, but says I need to be neutered first. I don't know what that really means but I hear my appointment is coming up soon. I love my foster Mom and I want to always be with her. I am so excited when she comes home every day. We go for a walk, and I play with my brother and then we all lay down to watch TV because I love to cuddle and nap. I have a lot of energy, so I need to get some of that out first. Foster Mom forgets I am a puppy because I always use the potty outside and I am getting so big. Sometimes I bark at foster Mom's boyfriend when he comes over but then I remember he loves me and gives me pets and treats. Foster Mom says I can crash at her place in Lexington, KY until I find my forever family. I am up to date on vaccines, microchipped, heartworm negative and started on preventative and as stated before will be neutered very soon. If you are interested in hearing more about me, please complete an adoption application on LWR's website and a volunteer will give you a call.
---
Sammie & Cinnamon
*AVAILABLE*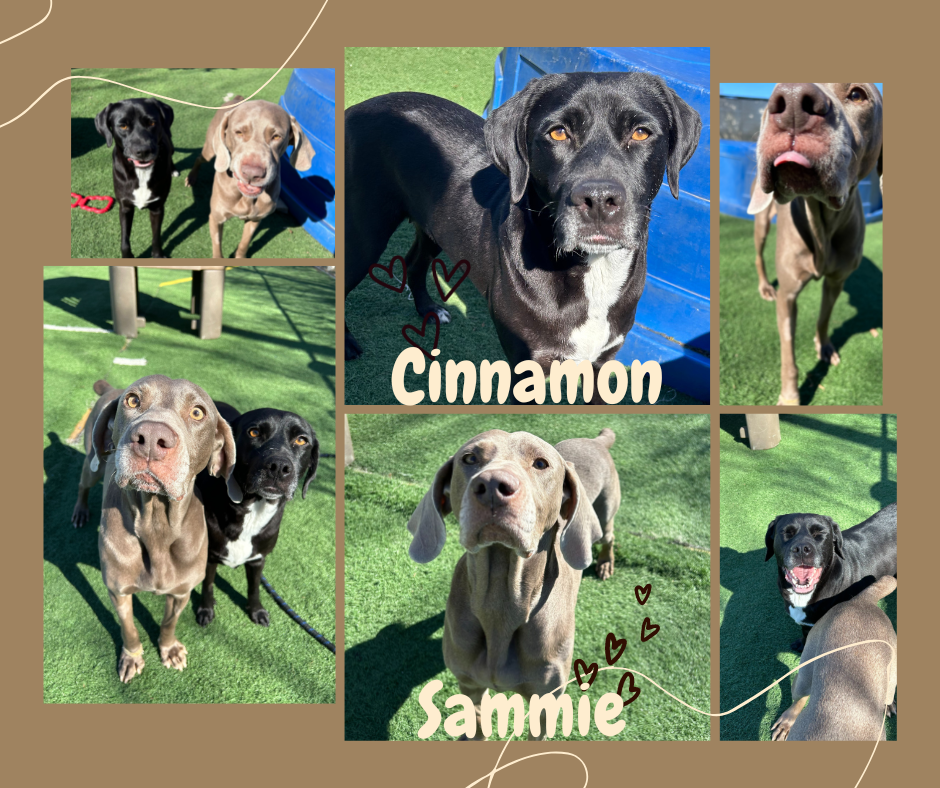 Hi! I'm Sammie and this is my little sister Cinnamon. We go together like peanut butter and jelly. I'm a 7 year old Weimaraner and Cinnamon, who is 6, is a lab mix (her DNA test will be in soon). We are both negative for heartworm and were recently spayed. We are up to date on all of our vaccinations, started on heartworm prevention, and are microchipped. We were taken into a shelter when our owner passed away. Our foster mom call us her "love bugs" because we LOVE to cuddle! I like our foster dad a lot, but Cinnamon is a little shy; she just needs some more time to warm up to him. It's the same with children-I think they are great but Cinnamon can be bashful at first. We tolerate other dogs but we've not found a playmate we can't live without. We are crate trained but might need some help with other household manners. We love stuffed toys. You can count on Cinnamon to bring you one every time you come home! We need a family who can be patient with us, provide us some stuffies and chew toys, and give us a nice warm bed to sleep in (even if it's yours…as I said, we LOVE to cuddle!).
---
Layla
*AVAILABLE*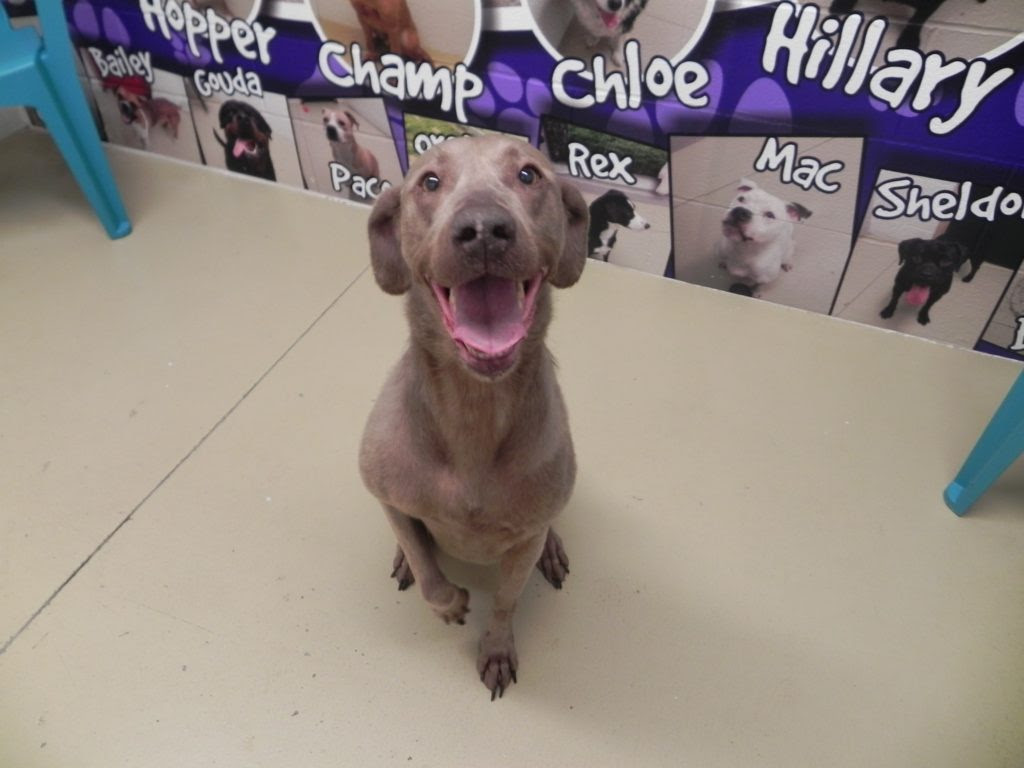 Welcome Layla! Layla came to us as an owner surrender. We are told Layla is a 6-year-old spayed female Lab/ Weimaraner Mix. Layla's owner told us that she has been around older kids and loved them, has never been around cats, housebroken and crate trained. Layla loves to play with toys, to lay on the couch and take car rides. Layla has shown us she knows how to sit, lay down, loves for you to give her belly rubs and treats! Layla doesn't seem to mind the other dogs here at the shelter and she is learning how to walk on a leash. Layla did great for her bath, and exam where she weighs in at 52.6 lbs. and was given Bordatella, parvo/lepto/distemper vaccines, dewormed, microchipped and is heartworm negative. Layla also came in with her Rabies vaccine. Our adoptions are $90 cash/check. Our visiting hours are Monday-Friday 8am-11:45 am and 1 pm-4pm. Saturday 9am-11:30 am. We are located at 5066 County Home Rd. Greenville, OH 45331. You can reach us at 937-547-1645
---
Max & Mia
*AVAILABLE*
Hi, my name is Max and this is my sister Mia. I am the gray male Weimaraner and my sister Mia is blue. We are littermates, who have been together our entire lives and would like to stay together when we go to our forever home. We are both on the small size for Weims, but we have big hearts. Our birthday is on Mother's Day when we will be two years old.
We love to snuggle together and with our people. When we snuggle, we like to touch each other or our people, so we can feel safe and comfortable. We have lived with young children, other dogs, and cats too. We are crate trained and stay in a large crate together, when our family is not at home. We also like to ride in the car and sit nicely in the backseat.
We are looking for a forever home together, but currently need a foster home as soon as possible. If you are interested in us, please complete an adoption or foster application on LWR's website, www.louisvilleweimrescue.com. See you soon!
---
Maggie
*AVAILABLE*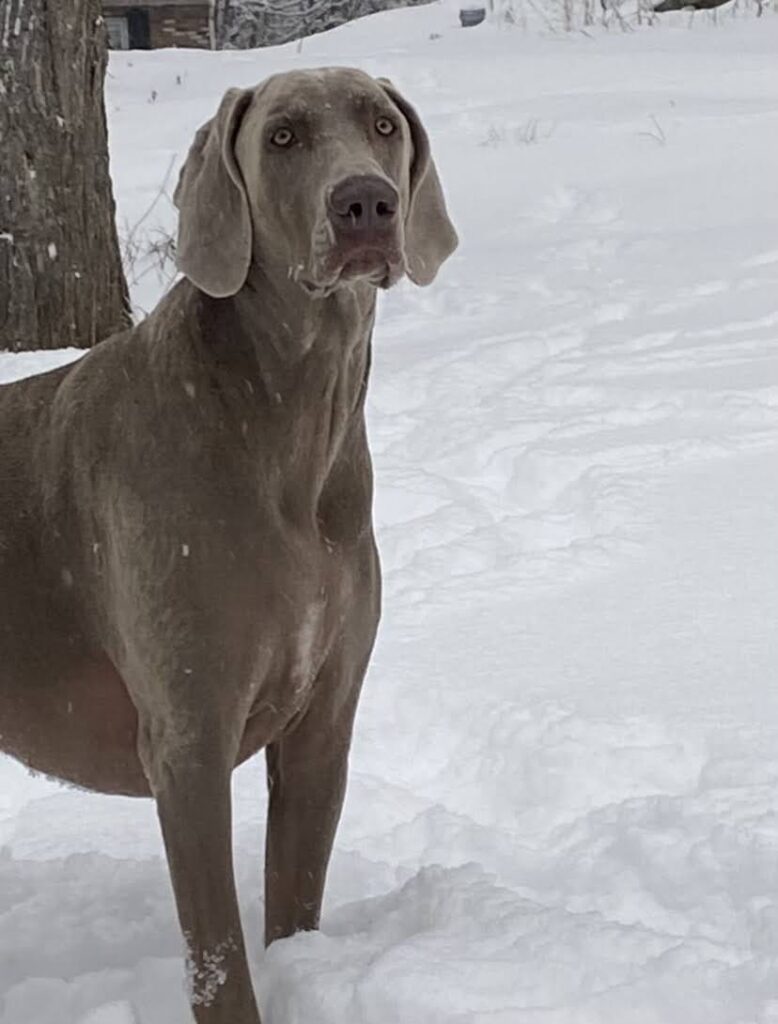 Hello, my name is Maggie! I am 3 years old, spayed, up to date on vaccinations, microchipped, and heartworm negative and on prevention. I am a typical Velcro Weimaraner. I like to be with my humans and will follow you around the house and give you no privacy. If you close a door and leave me out, I will whine and/or scratch. I am a very big girl and unusually tall for a Weimaraner. I have not been crated at my foster parents, but if you decide to use one, you will need a very tall one! I do struggle with my weight but have managed to drop from 126 to 109 at my last vet visit so I can't have too many treats or human food. Oddly, I am not really one to beg for food or a counter surfer but that could be because my humans have kept food always out of reach because of my foster Weim brother who likes to surf. I hear I am going to be tested to see if my thyroid is out of whack that may contribute to my weight. On the most part I am a well-behaved girl and have only been a little destructive when my humans go too far past my mealtime. If that happens, I may find something to chew up, but usually just paper or cardboard. I do like to have something to chew on to keep me busy and I enjoy chasing a ball, but I'm not too good about giving it back to you. I enjoy long walks and do well on a leash most of the time but since I'm a big girl and I do sometimes like to give chase if a squirrel or bunny crosses my path, I did pull my foster mom down to the ground once. I'm getting better, but I need someone who can handle me if I start to pull if I see a squirrel that I can't resist! I did jog when I lived with my original family, and I like hiking too. I am a happy dog and get especially excited when my humans come home. I hear that when I am happy, I smile, and my face just seems to light up. I have been on medication for incontinence but have not had any problems and sleep with my humans on their bed, king sized, of course! I am otherwise house trained with no accidents while in my foster home and will go to the door when I need to potty. I have been in a home with other animals and while I am mostly good with other dogs, I don't like to share and don't like any other animals around my food, treats or my spot on the bed. I have been aggressive and caused injuries to my dog friends requiring trips to the vet for them. Because of this, I will need a home with no other animals and no small children. I get along with children, but as stated, I do not like to share. If you need a big girl that will love you and be your one and only, please consider me. I really am a big sweetheart. Please complete an adoption application on www.louisvilleweimrescue.com if interested.
---
Koda
*AVAILABLE*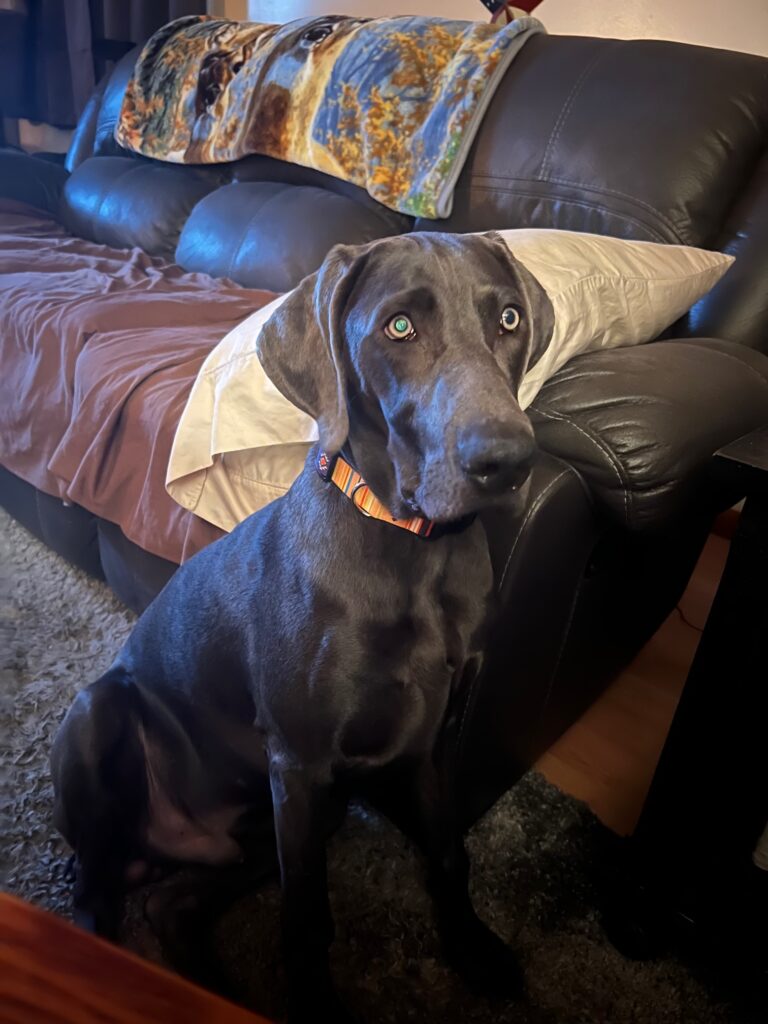 I'm so happy that you are taking the time to learn more about me.  My name is Koda. I'm a blue male Weim weighing 72 pounds.  My coat is so beautiful that when I'm out in the sunshine, it looks just like velvet.  Not to brag, but I've been called handsome many times!  I'm 1 year-old and pleased that the people of Louisville Weimaraner Rescue took me in to help me find a second home.  I had a rough start, so I'm thrilled to get a second chance!  I've been neutered, up to date on vaccinations, microchipped, and tested negative for heartworms. I take heartworm medicine and flea and tick medicine every month.  Those are the basic things about me so let's delve into my personality now!
As a young dog, you can imagine I am full of energy and wonder. I love to run and play. My current foster home is on a farm, and I have 3 Weim friends to play with along with a goat! I don't play with the goat, but I'm very interested in watching it. I've also lived with 2 small dogs, and they were fun. Currently, I live with a cat too. I'd really like to play with her, but she doesn't seem interested in doing that, which is too bad, because I'm really fun! I've spent time with a 2 ½ year old human boy and we get along just great. Since he's about my size, I do try to take his snacks, but I'm very gentle about it and just need to be reminded that I'm not supposed to take food that isn't offered to me. Remember, I'm young and still learning!
When I first came into foster care, I was a little afraid of men. My foster dad has been nothing but loving and kind and I've discovered that men can be just as awesome as my foster mom.
I am crate trained, but of course, I prefer to be out roaming free. I got a little bored when left out of the crate and chewed a few things. I do feel bad when I do that because I know that it makes you unhappy with me. Please know that I am sorry and just a baby and can't help myself sometimes. I know to potty outside and the whole time I've been in foster care, I have not had any accidents.
I seem to be pretty smart as it only took me one day to learn TWO tricks. I know how to sit and shake! I hope you will teach me more things to do because it's really good for my mental health and I want to please you more than anything in the world.
I'm not 100% sure, but I think I would like to take up running. I hear it's very good for our health and I'm sure I would love to spend time with you while you take care of yourself! You may have to work with me a little bit to learn how to run on the leash, but I feel confident that I can do it with some practice.
Now let's talk about two of my favorite things…Food and snuggles!
I do like to eat. I'm fed twice a day and boy is it delicious. If you have any treats you want to give me, I'm happy to take those too. You must be careful not to leave food out. I'm taller than you may think, and I have a long reach. I have been known to counter surf. I know it's bad but it's so tempting when I can smell something yummy. I will try my best to be a very good dog and not do that, but you may have to gently remind me.
Snuggles!! I can't get enough snuggles. I am a very loving boy. I like to sit with you, sleep with you, follow you. You will be my favorite part of every day. I will look up to you and think "Wow! How did I get so lucky?" We will be a great team. I can't wait to meet you and become a part of your family. I'm sure it will be a match made in heaven.
Please complete an adoption application at www.louisvilleweimrescue.com if you are interested in hearing more about me.