If you are interested in adopting a LWR Weimaraner, please fill out an adoption applicati

on.
---
Scout
*AVAILABLE*
Hi! My name is Scout. Not much is known about my background. I was found wandering the streets of a town in Western Kentucky. A family took me in and contacted LWR and they helped me get some basic medical care before I found my way to my foster home. I have a microchip but when they contacted the people to whom it was registered, they didn't reply. I don't know why. I am such a well-behaved and healthy boy that I can't imagine I was no longer wanted. However, I now find myself living in the Cincinnati area. My foster Mom took me to the vet and had me neutered and had all kinds of senior blood tests completed. I came thru with flying colors! According to the vet, my bloodwork was excellent! I'm now on heartworm preventive and flea preventive medications. The vet says it's very important that I am kept on Interceptor Plus as it keeps all sorts of worms from getting into my system. I am up to date on my vaccinations and microchipped.
I'm a bit tall and on the slender side, weighing in at 72 pounds. Being tall I have a nice countertop reach and like all Weims, if you leave something on the counter, I will explore. You are probably a good cook, so it seems only natural that I would want to taste the deliciousness that you create, right?
When I first arrived at my foster home, my foster Dad was away on business. When he got home, my foster Mom was out and not able to introduce us to each other. My foster Dad was a little concerned about me being overly protective when he got home. However, as soon as I saw my foster Dad, I was madly in love. Every time he comes home, I can't wait to get next to him on the couch and snuggle up as close as I can. When he walks me on my leash, I am the best boy ever. I really love my foster Dad. Living with a man would be so awesome for me! Don't get me wrong, I love my entire foster family, but I think I would really like a male in the house so we can bond.
As far as other dogs, I have been great with all of them! Two small dogs live in my foster home. One is only 10 pounds and the other is about 20 pounds. They are 4 years old, and we love to play together. We wrestle and run and boy it is so much fun. We even have a bonus puppy that comes to visit. She is only 4 months old and weighs about 20 pounds. She is full of puppy energy and she and I play the entire time she is here. I'm very gentle with her even when we are wrestling. I think I've even been teaching her how to play properly. My foster Mom has taken me to the dog park where I have met dogs of all sizes and been around other people too. It is so much fun meeting all of these dogs and playing with them. Did I mention that I am 10 years old? Obviously, I am not on my last leg!
I don't seem to know a lot of tricks. We have been working on sit, which I know very well now. And "stay". My foster Mom makes me "stay" before she gives me my food. That one was a little tougher, but I think I've got it mastered now. I just love to eat so it's hard to wait for my food. I do try to steal my foster siblings' food. That tiny one sure has a sassy bark so my foster mom makes sure that we are separated when it's time to eat.
I have been going in the crate when my foster family leaves. I prefer to stay out and about, but I go in the crate (with a couple of small treats), and I will stay in there and not cause any trouble at all. At first, I slept in the crate all night long but after a while, my foster Mom let me sleep in the bed. I like that a lot. Snuggling is one of my most favorite activities. We can watch TV all day if you like and I'll stay with you and snuggle. Following you around is another favorite activity of mine. You don't have to worry about being alone if I'm around. You and I will be the best of friends and I'm happy to ride in the car with you, walk with you, sleep with you, eat dinner with you…whatever you want to do is perfect for me.
If I sound like the perfect guy for you, please contact LWR. I'm excited to find my forever family and can't wait to meet you!
---
Lewis
*AVAILABLE*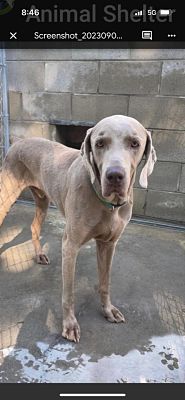 Hello everyone! My name is Lewis, and I am 3-4 years old! I am 68 pounds, gray, neutered, microchipped, had all my vaccinations, heartworm negative and started on prevention, so I'm ready to go. I was found as a stray in Kentucky and went to a shelter where the guy running the place was very nice to me and let me visit with his children. I did really good with them. I was then rescued by LWR. I am in very good health. I have a little missing hair on my hip, but it is healing quickly. I am excellent on a leash, and in a car, and love to join my foster Mom on our walks. I have medium energy, so just a nice walk in the morning and evening is all I need. I am also crate trained. I already know sit, down, and go lay down on my blanket. I love to nook my blanket, but don't chew it up. Just in case you don't know what nooking is, I will tell you. I like to take some of my blanket in my mouth and suck on it. It makes me feel safe. I also don't counter surf; can you believe it? My foster Mom says I am a champion snuggler too! I think I want to learn to play fetch, but Mom can't throw a ball at all. That's okay, cause I already love her for helping me while my new family is finding me. My current 4-legged, foster sister has some health issues, so she has been a little grumpy with me. Mom just tells us to go lay down, so we do. I would love to have my own home and family. I can live as an only dog or have a friend. No one knows how I am with cats. I am ready to give all my love, are you? I am being fostered in the Greenfield, Ohio area, and my Mom would love to tell you more about how wonderful I am.
If you are interested in this Weim, please go to www.louisvilleweimrescue.com and fill out an adoption application. Please understand that we are all volunteers and have jobs outside of the rescue, etc. To help us work more efficiently, please complete an application PRIOR to calling us. Once we receive your application and know that you are serious about adopting one of our Weimaraners an adoption coordinator will contact you. Also, foster homes are always in need for Weimaraners in our rescue. If you are interested in fostering, please visit www.louisvilleweimrescue.com and complete a foster application.
---
Lizzy
*AVAILABLE*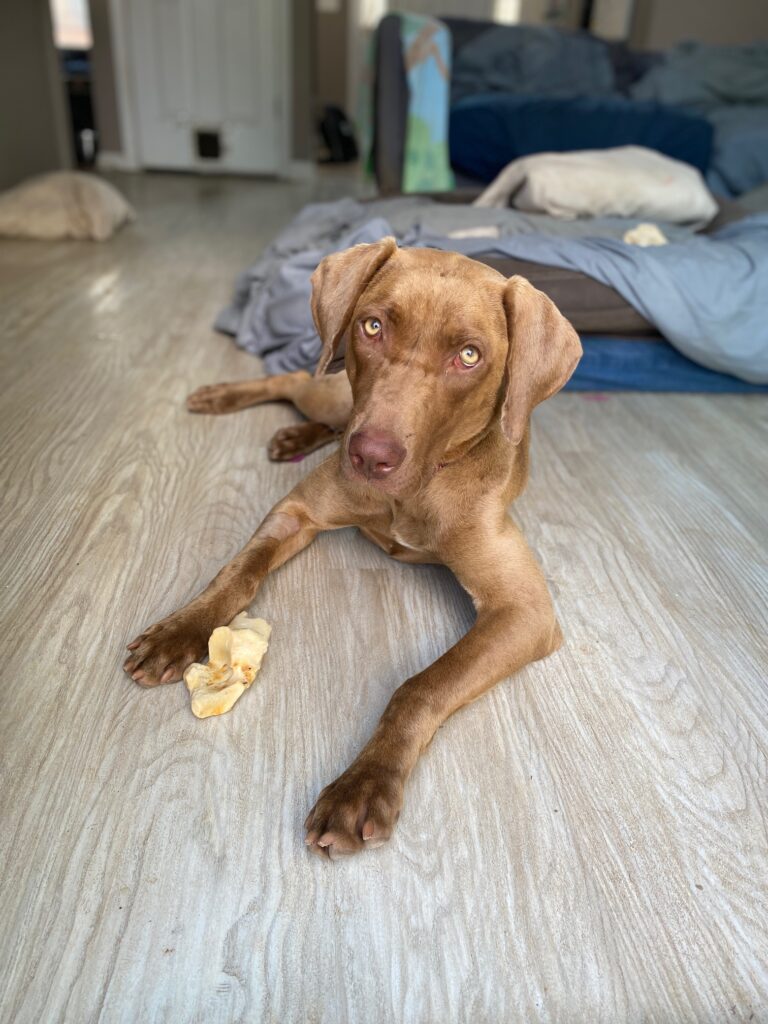 Hi, I'm Lizzy and I'm a bundle of energy and joy! I love every person and dog I meet and am so excited to meet anyone new. I look like a Weimaraner, but my coat is not the normal gray and I have a full tail. The vet thinks I am less than a year old and probably a Weim/Lab mix. I hear I am having a DNA test performed so we know exactly what I am mixed with. My foster parents say I'm beautiful! I am around 45 lbs, up to date on my vaccinations, and spayed. I was found as a stray when I wondered into someone's yard in southern Kentucky. I am very much enjoying living indoors with my foster home now. There are three other dogs here that I love to play with too. I have much more energy than they do though so when they get tired or grumpy they let me know and I back off right away. I really love when my dog friend Luna comes over. She is about the same size as me and has just as much energy as I do. My foster parents say we are a blur running around the fenced in yard.  For some reason they don't think I should be going out to meet the neighbors without them. I don't mind though. I run and play all the same and they give me plenty of supervised off-lead play time. Although they are being very cautious, my foster parents don't think I will try to jump the fence when the other dogs are around because I always want to be with them. After burning off some energy running in the yard and hanging out in the pool I love,  I like to cuddle with my foster parents. I am very affectionate and love getting attention from everybody. I am very food motivated. When my foster parents aren't watching I sometimes go hunting for food on counters and tables. I am still a little bit in a chewing phase but as long as there are toys or antler chews (my favorite) around I will chew on them. I have occasionally stole a slipper or 2, and my foster parents have to keep the leashes up out of reach because for some reason I really like to chew them to pieces. I am still working on housebreaking, but I haven't had many accidents. As long as I can get outside I prefer to go out there. If the door is closed I will go to the door when I need out, but I don't know to make noise to tell anyone yet. I think I heard they were going to try a bell on the door and teach me to ring it. I haven't been around cats, so we don't know for sure how I would react to them, but we haven't seen anything to make us think I would be mean to them. My foster parents say that I am a very happy and sweet little girl and I will make a great member of some lucky family. Is that family you? Please complete an adoption application at louisvilleweimrescue.com and one of the LWR volunteers will be in touch. See you soon!  Oh also, in the picture with 2 dogs, I am the one lying on my back.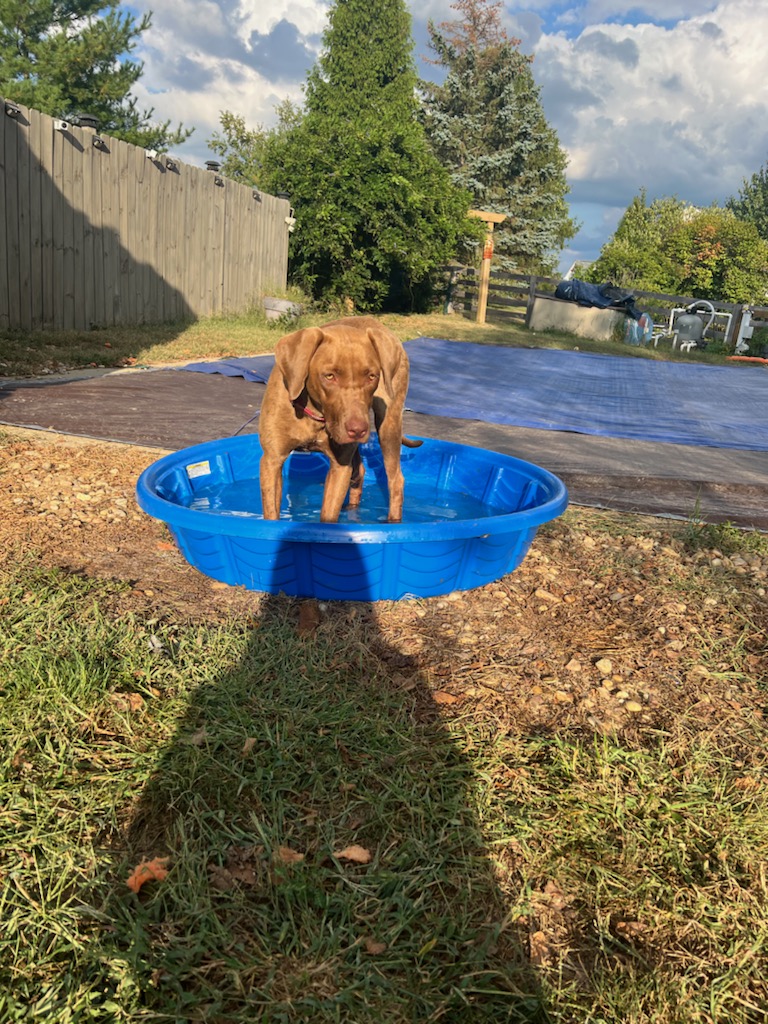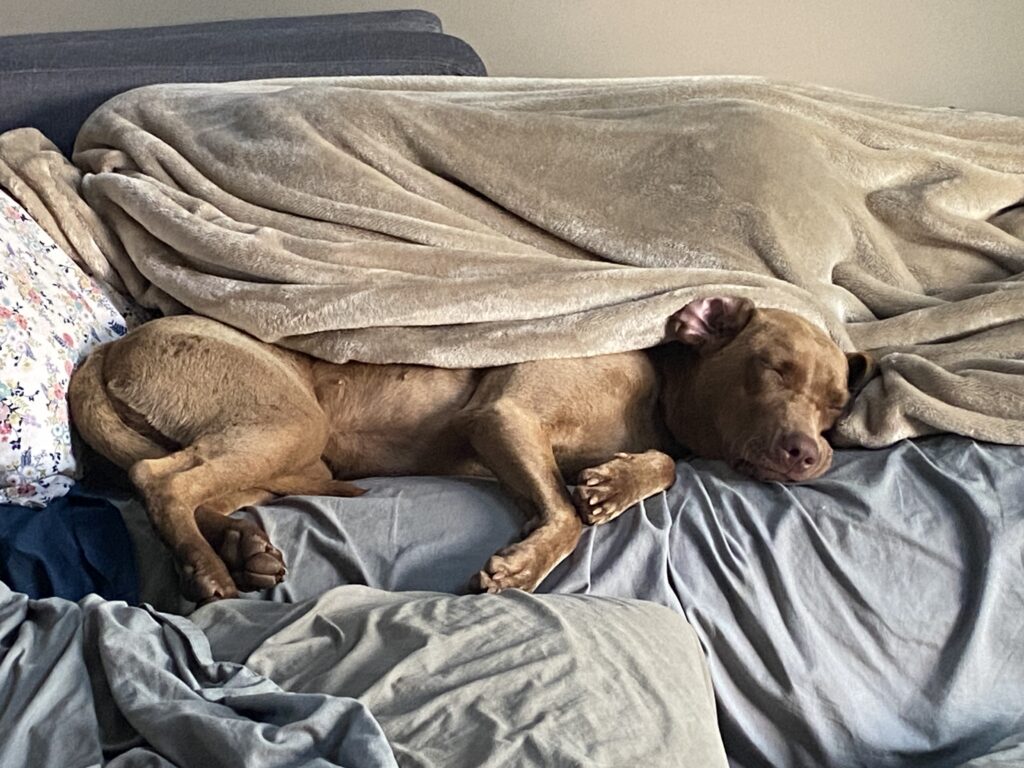 ---
Reesie
*AVAILABLE*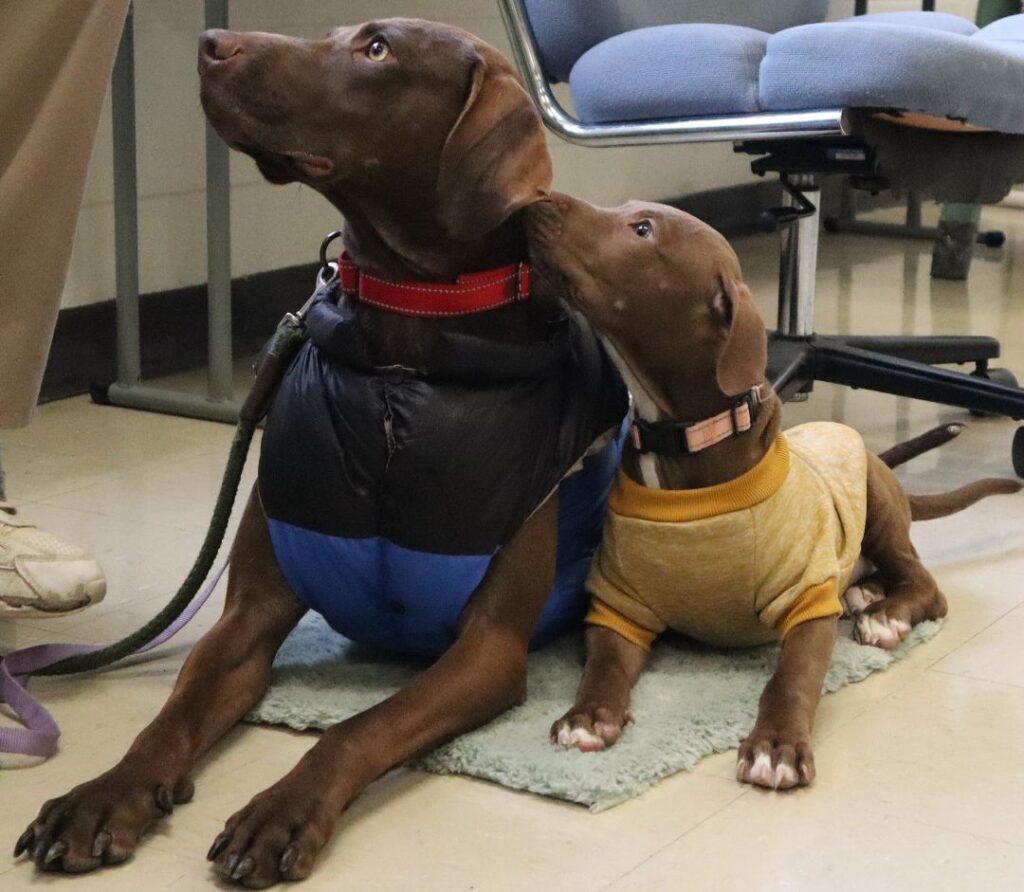 Hello, my name is Reesie! I'm 2 years old, ~70lbs, spayed, up to date on vaccinations, microchipped, and heartworm negative and on prevention. I arrived in rescue around Valentine's day 2022 with my 12 days-old puppies in tow! All my babies are in their forever homes and I'm ready for mine too. You would not believe how well trained I am! I graduated from a well-respected inmate-training-dogs program called Paws Behind Bars. I was so good I got an extra assignment, my inmate & I trained up a puppy as well! I was used to being a mother so this came naturally to me. I earned my AKC Canine Good Citizen with my inmate and you'll be impressed with how well I've retained my skills. Even though a tennis ball is my FAVORITE THING IN THE WORLD I will sit, stay, and even lay down until you throw it for me, even if you talk to your friend for a long time in between throws :). My "heel" is sometimes lacking when I first get out of my kennel, I'm just so excited to be with my rescue humans. As long as my human is my boss they say I am such a good girl. More about me: I am outgoing, very smart (or so I'm told, I really don't like to brag), I'm athletic and outdoorsy. I love activity, enrichment & toys (especially that tennis ball). You're probably familiar with this characteristic, I like to create a bond with my primary caregiver quickly. I'm hopeful that whoever adopts me is home more often than not. I am good with kids, I prefer when they are in middle school or so, because as a reminder I am playful and interested in toys but also 70 lbs. I want to be an only pet if possible because, due to my prey drive I'm not a good match with cats or small dogs. I have been ok with large submissive dogs though & ESPECIALLY good with puppies. If you need help raising up a puppy, I'm your girl! I don't like to be fussy but I do need a grain- and chicken-free diet due to allergies we learned about when I came into the rescue (my rescue humans can give you great suggestions on food & treats). If you want to learn more about me or fill out an adoption application, you'll find contact info & my official profile at www.adoptmebluegrasspetrescue.com which is based in Crestwood, KY. Louisville Weimaraner Rescue was SO KIND to let my rescue post me here since you all are Weim lovers and I need someone who knows my breed mix. I hope I've tugged your heart strings enough for you to look into me or share me with your Weim lover friends!