If you are interested in adopting a LWR Weimaraner, please fill out an adoption application here.
---
Sapphire
*AVAILABLE*
Are you looking for a shadow who likes to snuggle? Well, here I am! My name is Sapphire! I am a 2-year-old, blue Weimaraner weighing 56 pounds. I'm a special -needs girl because I have spinal dysraphism and diffuse idiopathic skeletal hyperostosis (DISH). I went to see a neurologist who was amazed when my xrays showed I seemed to have two spines! Do you need someone with a little extra backbone? Since I have these disorders, I must do certain physical therapy exercises daily, and I would also benefit swimming. I love the water treadmill at the IndyVet Emergency and Specialty Hospital. This is where I am currently going for therapy. My therapist, Kelly, reports I have come a long way. I am not going to be a dog that can go for walks, and jumping up is hard. When I get excited, I will spin in circles and do what my humans call the "happy feet dance." I may need help getting in the car or getting on the couch. Stairs can be hard for me when I'm tired, so it may be best for me to live in a home that is one level and doesn't have stairs to get outside. I really want to be where my people are. I prefer indoors since I get hot and tired fast. I love my foster family and my crazy foster Vizsla and Weim sisters. I do not know what a cat is, so I'm not sure how I would do with one. I sleep with or on my foster mom. She talks about personal space, but I'm not sure what she is talking about. I greet the teenage humans every morning with kisses. Did I mention how much I love and follow my people around? I'm looking for a forever home with someone that is home most of the time, has few to no stairs, and likes having a little shadow supervisor. I am up-to-date on vaccinations, spayed, microchipped, heartworm negative and started on preventative. I am being fostered around Indianapolis. I am hoping that someone is out there that can look past my disability and give me a forever home. I will love you forever, I promise. Oh! My physical therapist wanted to say something about me, so please read below.
Sapphire started out as a nervous, timid girl when she came to therapy. It was wonderful watching her blossom into a happy, cuddly, playful pup as she became comfortable with our rehab team. Sapphire would benefit from some consistent home exercises (which are available to view via an online portal) and may need a few bouts of formal rehab sessions here and there as she ages. Working with her at home will help to keep up her endurance by challenging her muscles and keeping them strong to help aid in her overall mobility. She may need a little more attention than a typical dog does, but her big grin and "happy feet" will make it all worth it!
---
Pebbles
*AVAILABLE*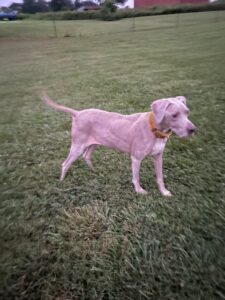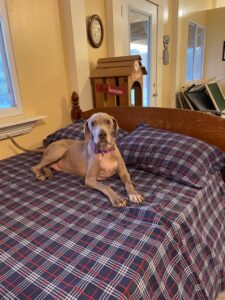 Hi, my name is Pebbles! I was found in a quarry in Kentucky in May 2021. As you can see from my picture from then, I was not in good shape. I weighed 38 pounds. I was taken to the local shelter, and LWR was notified. I was picked up by very nice LWR transporters and taken to the vet's office. I remained at the vet for about a week so I could get testing and much needed TLC. It was found that I have diabetes, and my vision was not good. I was started on insulin to regulate my diabetes. I went to my foster home where I continued to get well. I did get to see the Veterinary Ophthalmologist who said I was an excellent candidate to have my cataracts removed. I had the surgery on June 29th and was able to see right away. I was very excited! I now weigh 57 pounds which is about where I should be. I love to run on the 5 acres at my foster home. I get to run with some other dogs too. I am a hunter so I probably shouldn't live with cats. I love to snuggle up to my foster parents. My foster Mom thinks it would be best for me to live in a home without any other dogs or small children so I won't get to their food and mess up my diabetes. I would love a home where someone is home most of the time. I am a happy girl, and my tail shows you this as it doesn't stop going round and round. I am probably a mixed Weim, but don't let that detour you! The vet estimates me about 5-6 years old. Of course, the big thing is that I will need to have my insulin twice a day ($25/month), prescription food ($80/month), and eye drops ($30/month) daily. I know this will be more of a cost to my new family, but I will show you how much I love you for the rest of my life. I am up-to-date on my vaccinations, spayed, microchipped, heartworm negative and on preventative. I am ready to find my forever home even though I love my foster parents. I am being fostered in Charlestown, IN which is by Louisville. Please think long and hard about me, and if you are willing to talk more to the LWR folks about me, please complete an adoption application on the website. They will give you a call!