We are a strictly volunteer operation who gives tirelessly of our time, hearts, and homes to help Weims in need.  None of us is paid for what we do and we usually pay out of pocket for many items.
Adoption fees make up a very small percentage of our costs which include routine and major veterinary care, ID tags, collars, leashes, boarding, food, microchips, flea/tick/heartworm prevention, nutritional supplements, etc.  Most of our income comes from donations from generous people who care about animals. Louisville Weimaraner Rescue, Inc., is a non-profit corporation, which has 501(c)(3) taxable contribution status with the IRS.
In the past year, we have taken in and placed more dogs than in previous years.   We have also had more special needs cases.  This past summer alone we had 3 Weims come in that were heartworm positive and needed extensive treatment.  Each heartworm case costs up to $1,000 to treat.  They have all recovered and gone on to be adopted by loving homes.
Pictured here are Harley and Johnny… only a couple of the special needs cases we have taken in over the past year.
---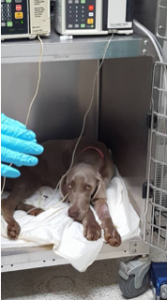 Harley

is under one year old and had a severe case of Parvo which cost over $4,000 to treat.  She has since recovered and is living happily with her new family.
---
---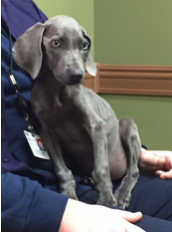 Johnny
December 27, 2016 – Johnny is a 4 month old puppy diagnosed with Juvenile Onset Diabetes Mellitus. He had food bloat but his foster mom quickly recognized it and he has since recovered.  He weighed about 9 1/2 lbs at 4 months of age when he came into rescue around the beginning of December.
On December 27, 2016 – Johnny weighed about 11 1/2 lbs.  His insulin dosage has been increased to 4 units twice daily and he is doing much better.  He now plays a little bit like a puppy should.  However there are other health factors that may come into play as he gets older.  We currently have him seeing an internal specialist to determine if he has some intestinal motility issues.
January 13, 2017 – Johnny has more tissue mass and is not as bony as he was three weeks ago.  He now weighs 13.4 bs.  His belly is still distended, but maybe a little less so.  His last curve looked good.  While he is improving, we believe that there is more than just diabetes going on.  The stomach seems to not empty quickly and we question how well he is absorbing the food.   We have the best foster and
vet care!  They went ahead and did an ultrasound (at no charge) of his belly.  His stomach has good movement, but it doesn't seem to be effective. The fact that he is so still so small may be due to a variety of factors including his diabetes and suspected intestinal disease.
January 26, 2017 – Johnny now weighs 15.9 lbs and he is getting taller!  We will be doing a thyroid panel to check that out to be sure nothing is going on there.  He is really beginning to act like a Weim! He is playing, jumping around, fetching toys, tormenting the other dogs like a puppy.  He waits for them to walk by and then pounces on their faces.
February 6, 2017.  Johnny's thyroid test came back normal. Yay!  He now weighs 17.5 lbs.  We have adjusted his insulin intake to correlate with his weight gain.
---
Thanks to your generous donations, we have been able to help these pups and many more.  Thank you!
Please Continue to Support us and Help us Save more Weims!