In the past year, we have taken in and placed more special needs Weims than in previous years.  This past summer alone we had 3 Weims come in that were heartworm positive and needed extensive treatment.  Each heartworm case can cost up to $1,000 to treat.  All the heartworm positive Weims have recovered and gone on to be adopted by loving homes.
Pictured here are Harley, Johnny, Lulu, and Sadie, just four of the special needs cases we have taken in recently.
---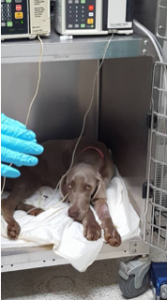 Harley

is under one year old and had a severe case of Parvo which cost over $4,000 to treat.  She has since recovered and is living happily with her new family.
---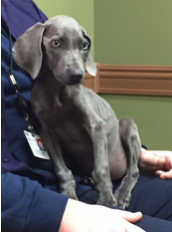 Johnny
 is a 4-month-old, 9.5# puppy who came to us in December 2016 diagnosed with Juvenile Onset Diabetes Mellitus.  He is now a happy puppy and has been adopted by his foster home.

Over the course of the next 2.5 months, Johnny was closely monitored by his foster mom and internist.  Many blood glucose curves were done and insulin levels adjusted.  He had various blood tests and ultra sounds done.  His foster mom worked hard on getting him potty trained as the effects of uncontrolled diabetes dwindled with care and treatment.  As of the middle of February, Johnny had more than doubled in weight.  Johnny's diabetes is under control.   He weighs 45# now (May 2017), andand actually looks like a real dog! He continues to grow every day.  His foster/adoptive mom calls him a sour patch kid.  He can be real sweet one minute, and then in the blink of an eye, be just as rotten. Lol! But I guess he has 3 months of puppiness to make up for. We are so glad to hear Johnny is living a good life now!. 
---

Lulu

is 3-5 years old, and another victim of repeated breeding and irreponsible care. She was found in southern KY running loose, scared, and confused in traffic. Sadly, Lulu is also heartworm positive along with having conjunctivitis, bacterial and fungal infections in her ears, a respiratory infection, and a possible genetic malformation of her snout. Lulu was very stressed for awhile before settling in at her foster home in MI. When Lulu's foster mom saw Lulu on our Facebook page, something clicked, and she drove 350 miles to pick Lulu up and 350 miles back home. Lulu is loving her new human foster family, Weim brother and cat sister – she may even stay there for the rest of her life after she is heartworm-free, spayed, and healthy!
As of mid May 2017, Lulu has had multiple chest xrays and vet exams over the last couple months to monitor her heartworm condition. One of the xrays showed a BB lodged in her body. She is gaining weight and getting stronger, though she will have to be on steroids for a long time to help keep the inflammation down in her lungs.  Lulu has not been spayed yet as it would not be safe for her to go under anesthetic.  Once she is healthy enough, she will be spayed and the BB removed.  She will have a heartworm test again in August.  Her exercise and activity is still restricted.
Please give your dogs monthly heartworm preventative and spare them the pain and damage of heartworm disease. For more information on heartworms, please visit https://www.heartwormsociety.org/
---
Sadie

is a 5-year-old from a shelter in TN. Sadie lived with a known hoarder/breeder until Sadie could not produce puppies anymore, then she was tossed to the shelter like many before her. Sadie tested positive for heartworms and should not have undergone anesthesia for spaying, but she had a bad case of pyometria (infection of the uterus), and had to undergo life-saving surgery right away. Sadie was on antibiotics to ward off infection from the surgery. , and she will hopefully be ready for adoption late-spring.  As of May 2017, Sadie is still fighting dry eye and an ear infection.  She is on prednisolone for the heartworms every day until the end of June.  She has received 1 of 3 immiticide injections to kill off the heartworms.  The last of those will be done at the end of  May.  She is currently comfortable in her foster home in Columbus OH and will be ready for her forever home in July.  Her exercise and activity will be restricted until then.
Please give your dogs monthly heartworm preventative and spare them the pain and damage of heartworm disease. For more information on heartworms, please visit https://www.heartwormsociety.org/
---
Thanks to your generous donations, we have been able to help these pups and many more.  Thank you!
Please continue to support us and help us save more Weims!