Louisville Weimaraner Rescue, Inc., (LWR) is a non-profit, 501c3 organization run entirely by volunteers to rescue stray, abandoned, and relinquished Weimaraners in Kentucky and Indiana. LWR has been working to provide "forever homes" to these Weims-in-need since 1997. We are funded solely through fundraising events, private donations, and adoption fees. All proceeds are used directly to feed, shelter, and provide much needed veterinary care to these rescued Weimaraners who reside with our volunteers in their own homes, with their own pets and families prior to adoption. We take enormous pride in our rescue efforts, as well as strive to operate a professional and successful rescue group. Our goal is to find each of these wonderful, homeless Weimaraners their "forever home".
---
EEYORE & STANLEY
Stanley
From permanent foster Mom, Sharon W.:
When I picked up Stanley on June 16, 2018, I knew he was meant to be with me. He got in the back seat and looked at me like come on, let's go. I got in the car and turned to make sure he was okay, and he gave me a big kiss. It was love at first sight. When I got him home, he walked in like he had lived there forever. He let the other dogs know he was there to stay. He immediately jumped up on the couch and it was his until he passed on Tuesday, August 24, 2021. He was such a sweet and stubborn boy. He will be missed forever.
I love you, Stanley.
Mom
Eeyore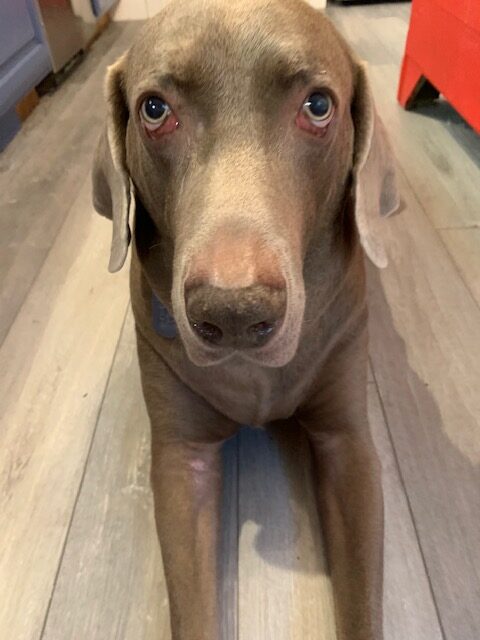 From Eeyore's Mom, Dottie:
Eeyore is very sweet and loving. When he first came to our home, he was a very sad dog. But after a few days of food and loving, he became quite at home.
He sleeps in the bed, although he's not able to jump up on the bed himself. He will put his front paw on the bed and then the heavy lifting begins. It seems wherever he lands is pretty much where he stays once he's up there. He has a loud snore which is due to the size of his cancerous thyroid.
The vet has not given him much time to live, and we are making sure he is happy and as comfortable as he can be. He even wags his tail and gives us lots of kisses when we come home.
My niece told me he has found the perfect hospice care. She's now named our home "The Housemeyer Hospice."  This is not the fun part of rescue, but we are so glad that we can give this majestic dog a peaceful and comfortable end to his life.  We are sure he was once a mighty dog. To know he came off the streets in Indy and found his way to us is an honor to give him joy until there is no joy left to give. 
UPDATE: Unfortunately, Eeyore crossed over the Rainbow Bridge today, 8/26/21. Thank you to the Housemeyer's for taking such good care of him for the last month of his life.
---
ADOPT A WEIM
Please visit the Adopt a Weim Section. We strongly recommend that you read About the Breed and take the Are You Weim Ready Quiz BEFORE you decide to adopt a Weimaraner. The information provided will give you a clear understanding of the breed and its requirements which will help you make the right decision for you and your family.
The first step in possibly finding you a wonderful rescued Weim is to

fill out an adoption application

. This provides us with information about you, your home, your family, and gives us a general idea of what you are looking for in a family friend.
Please do not be impulsive in adopting a Weim. Choosing a lifetime companion is a very important decision and not one to be done in haste. We must be sure our Weims are placed in homes where they will be loved and properly cared for. Some of these Weims have already been in multiple homes, and our goal is to make sure they will not be moved around anymore.
---
FOSTER A WEIM
Please visit the Foster A Weim section. We desperately need foster homes as there are more Weims needing foster homes than we have places for. When you become a foster home, you agree to take in a homeless Weimaraner and give them the love, care, and attention they need to be able to move on to their forever home via adoption. You play a role in determining who the adopter of your foster Weim will be. LWR pays for all vetting, medical expenses, and more. Fostering a Weimaraner does not cost you a penny.
LWR does not have a physical shelter. We rely on foster homes (and sometimes boarding situations when we are desperate) to house and take care of our Weims prior to adoption. Please consider being a foster home as it is a very rewarding experience.
---
VOLUNTEER
LWR is always looking for volunteers. There are many ways you can make a difference in the life of a rescued Weimaraner. You can help drive Weims from one place to another, conduct home visits on applicants in your area, participate in special events, be a foster home, and more. Please visit our Volunteer page and complete our Volunteer Application.
---
CONTACT US
If you wish to adopt, please go to the Adoption section and complete an online adoption application. If you need to surrender a dog, please go to the Surrender section and complete an online Surrender/Intake inquiry. For general questions, click on Contact Us and complete the form.
---
DONATE
Many expenses are involved in the pre-adoption process of our Weims such as veterinary care, insurance premiums, food, toys, the making of the adoption packets that accompany each adopted Weim to their new home, postage fees, and transportation costs. The costs to prepare many of our Weims for adoption far outweigh the adoption fee for the Weim. LWR is a volunteer-based organization that exists solely on adoption fees, fundraising events, and individual donations.
---