Louisville Weimaraner Rescue, Inc., (LWR) is a non-profit, 501c3 organization run entirely by volunteers to rescue stray, abandoned, and relinquished Weimaraners in Kentucky and Indiana. LWR has been working to provide "forever homes" to these Weims-in-need since 1997. We are funded solely through fundraising events, private donations, and adoption fees. All proceeds are used directly to feed, shelter, and provide much needed veterinary care to these rescued Weimaraners who reside with our volunteers in their own homes, with their own pets and families prior to adoption. We take enormous pride in our rescue efforts, as well as strive to operate a professional and successful rescue group. Our goal is to find each of these wonderful, homeless Weimaraners their "forever home".
---
ADOPT A WEIM
Please visit the Adopt a Weim Section. We strongly recommend that you read About the Breed and take the Are You Weim Ready Quiz BEFORE you decide to adopt a Weimaraner. The information provided will give you a clear understanding of the breed and its requirements which will help you make the right decision for you and your family.
The first step in possibly finding you a wonderful rescued Weim is to

fill out an adoption application

. This provides us with information about you, your home, your family, and gives us a general idea of what you are looking for in a family friend.
Please do not be impulsive in adopting a Weim. Choosing a lifetime companion is a very important decision and not one to be done in haste. We must be sure our Weims are placed in homes where they will be loved and properly cared for. Some of these Weims have already been in multiple homes, and our goal is to make sure they will not be moved around anymore.
---
FOSTER A WEIM
Please visit the Foster A Weim section. We desperately need foster homes as there are more Weims needing foster homes than we have places for. When you become a foster home, you agree to take in a homeless Weimaraner and give them the love, care, and attention they need to be able to move on to their forever home via adoption. You play a role in determining who the adopter of your foster Weim will be. LWR pays for all vetting, medical expenses, and more. Fostering a Weimaraner does not cost you a penny.
LWR does not have a physical shelter. We rely on foster homes (and sometimes boarding situations when we are desperate) to house and take care of our Weims prior to adoption. Please consider being a foster home as it is a very rewarding experience.
---
VOLUNTEER
LWR is always looking for volunteers. There are many ways you can make a difference in the life of a rescued Weimaraner. You can help drive Weims from one place to another, conduct home visits on applicants in your area, participate in special events, be a foster home, and more. Please visit our Volunteer page and complete our Volunteer Application.
---
CONTACT US
If you wish to adopt, please go to the Adoption section and complete an online adoption application. If you need to surrender a dog, please go to the Surrender section and complete an online Surrender/Intake inquiry. For general questions, click on Contact Us and complete the form.
---
DONATE
Many expenses are involved in the pre-adoption process of our Weims such as veterinary care, insurance premiums, food, toys, the making of the adoption packets that accompany each adopted Weim to their new home, postage fees, and transportation costs. The costs to prepare many of our Weims for adoption far outweigh the adoption fee for the Weim. LWR is a volunteer-based organization that exists solely on adoption fees, fundraising events, and individual donations.
---
THANK YOU EVERYONE!
Great news! We had a few fund raisers and had asked for donations to help with Lexi, Tulip, Lucky, and Stanley. Thank you to everyone for your generosity!
A total of $11,093.94 was raised!
Below is the breakdown:
T-shirts: $2,258.94
Donations: $3,660
Online auction: $4,675 – Thank you Vicki Powell!
Masks sold: $500 – Thank you again Vicki Powell!
Again, we would like to thank everyone for their generosity. Please keep the Weims above, and all the dogs in the world being abused, in your thoughts and prayers.
If you missed the t-shirt fundraiser, please keep an eye out on LWR website's gift shop, we have a few selected sizes for sale
.
---
Note from Denise King, President and Founder LWR
I hope this finds everyone doing well and being safe. I understand that this is a difficult and trying time for everyone. I am hopeful that it will be over soon and we can all get back to normal.
I wanted to share with you a few Weims we recently had come through the rescue that have had more medical costs than normal. Stanley is 14 years old and he is a forever foster which means we pay all vet bills for him as long as he is with us. Lucky, Lexi, and Tulip are intakes in March and April and their vetting totals about $12,000. You can read their stories below.
If you would like to help with the vetting costs of these Weims, plus the others currently with LWR and future ones to come, please click on the Donate button at the bottom of the page. You can donate via PayPal or credit card. No amount is too small. All the gray dogs appreciate anything that is given. If you can't donate now, please keep us in mind for the future. LWR is a nonprofit organization and relys solely on donations and fundraisers.
---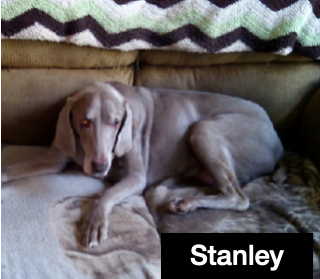 Hi! My name is Stanley. I am currently 14 years old. I ended up in a shelter in Dayton, OH and LWR and Senior Moments Weim Rescue rescued me on May 30, 2018. I have been living in my permanent foster home since being rescued from the shelter. I hear my foster mom, Sharon, state that I am doing fairly well and she is grateful for every day she has with me. Isn't that nice? The shelter stated I was blind in my left eye, partially blind in my right eye, and completely deaf. However, I fooled everyone! I am none of these. I can hear a treat bag being open in the next room! My foster mom says the older dogs are the best as we are thankful for the love and the warm and safe home. LWR has been providing all the medical costs for me and will continue to do so for the remainder of my life.
---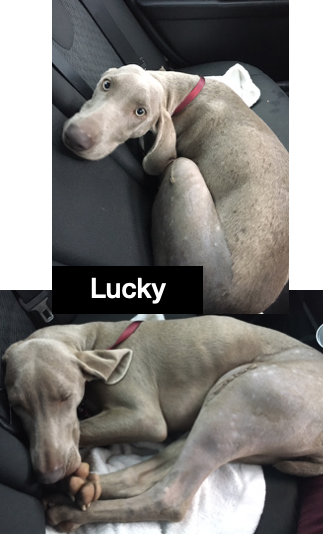 Hi! My name is Lucky. I was found on the side of the road on March 15, 2020 by some wonderful people. They tried to find my home, but no one came forward. LWR was contacted to help me. I was limping on my left hind leg when I was found, so the lady who found me, and who became my foster mom, Madeline, took me to LWR's vet where x-rays were completed. I had a left distal femoral growth plate fracture. Unfortunately, this kind of fracture had to be repaired by a specialist. I had surgery at Metropolitan Veterinary Services in Louisville on 3/17/20. I am currently recovering and doing well. Oh! I was named Lucky by my foster family because I am lucky they found me and they are lucky I found them. I think I may be staying here forever. LWR's cost for all my vetting was $2,949.25.
---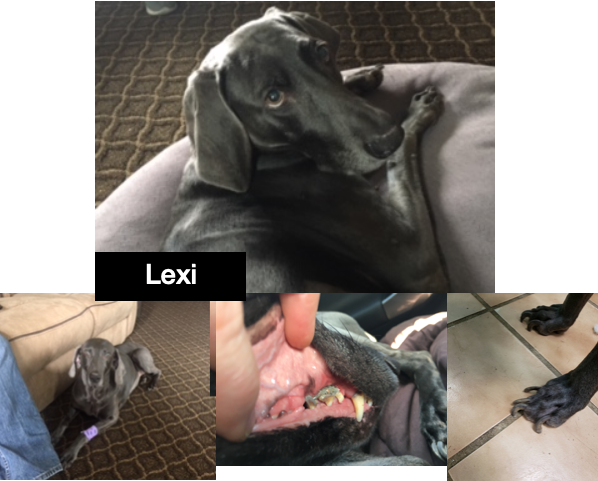 Hi! My name is Lexi. I am 11 years old and was turned into the Indianapolis Animal Care And Control by my family on 3/10/20. IACC contacted LWR on 3/16/20, and I was picked up by a nice LWR volunteer couple on 3/17/20 who took me to my foster mom, Amanda. I had very long nails, which made walking hard. My foster mom immediately started working on my nails so I would feel better. Unfortunately, as the days went by I got very sick. I had to go to VCA Advanced Veterinary Care Center on 3/31/20 for aspiration pneumonia, chronic diarrhea, anemia, and an underlying GI disease. I was admitted for five days. I ran a high fever for most of those days, required a medicated nebulizer and oxygen, and had many tests completed. I am currently recovering with my foster family. My breathing and coughing are getting better. The coughing was horrific! My teeth are very bad and will need some attention in the near future when I am well enough. My coat was very dull when I arrived, but it is now shiny from all the chicken thighs I get to eat. I need to gain the weight that I lost. I want to thank LWR for believing that I needed a chance to live at my age! LWR's cost for my vetting so far is $7,403.75.
---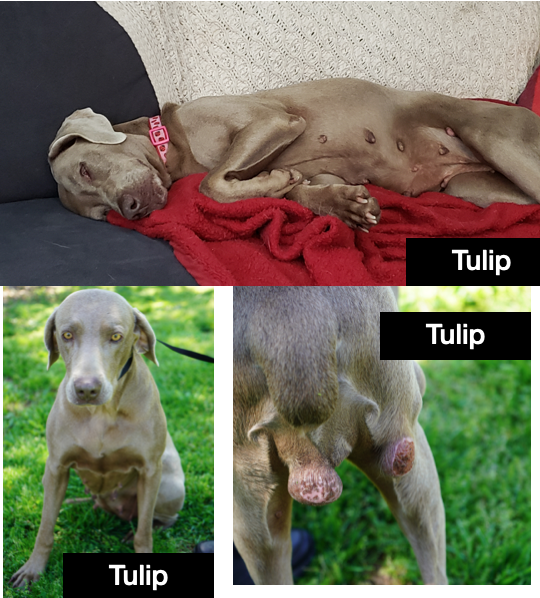 Hi! My name is Tulip. I was found as a stray and had been at the Bowling Green/Warren County Humane Society since 4/10/20. LWR was contacted on 4/15/20 about me. I was picked up by a nice couple on 4/16/20 and transported to my foster mom, Mary. I can't tell you much about my past except that I have had litters of puppies and I have two growths on my back end. I will need to be spayed and these growths removed and biopsied. The shelter completed a heart worm test on 4/15/20 and found out that I am heart worm positive. I will need to have heart worm treatment now before I am spayed and the growths removed. I will keep you updated on myself, but that is all I can tell you right now. My vetting will probably be around $1,500-2,000.
---
You may make a direct, tax deductible monetary donation for our Weims by clicking the button below.